The table's set. The candle is lit. And dinner is served. Except you're sitting at your own dining room table.

This is the first time we've eaten in here since February...
we usually eat in the breakfast area.

There's just something nice about having an at-home date night.
Through Myblogspark (thanks www.PBfingers.com for leading me there!), I was asked if I would like to participate in an at-home themed Spark.
I received a free Wanchai Ferry and Romano's Macaroni Grill dry dinner kit as well as a $25 gift card to purchase additional ingredients for my date night. I was so excited when I saw the little brown box on the front door step.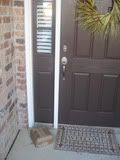 Hello, box!
I purchased:
• Candle (I already had a bottle of wine I wanted to drink, or I would have bought wine instead)
• 1 lb of chicken breasts
• Broccoli
• Fresh parmesan
• Salad mix
• French garlic bread
• Tomato
• Brownie ingredients (you know I made the box kind…)
For Tuesday's date night, I chose to make the Macaroni Grill Creamy Basil Parmesan Chicken and Pasta. All you really need is the chicken. I didn't realize the kit included parmesan!
  
The chef's tip on the box was to add a fresh tomato to the pasta.
I definitely think it was a good idea.
After a slight mishap because I didn't read the instructions completely (they're not hard…but I didn't realize there was a sauce packet AND a seasoning packet). I might have added the sauce WAY before I was supposed to. Oh well.

Next time: Read directions before I start cooking.
The directions said to use two tablespoons of butter to grill the chicken in, but I just used one, and it worked out perfectly.
And I'm not lying when I tell you the boy said,
"This is better than you could get in the restaurant."
I think it's a combination of the food quality and my fabulous cooking skills.
☺
Now, I was skeptical at first. I didn't think it would be enough food. It looked small in that box. But it was enough for me to have for lunch the next day. And I couldn't even it all of it then (it was just as delicious the second day).
Delicious date food.
I always worry about these box dinners having enough flavor, but that was not the case with this one. I agree with Mr. A. It had more flavor than you often get in restaurants, and I didn't add a single thing. Not even salt.
I made the brownies first. Is that normal?
Dessert? Yes, please!
I can't wait to try the Wanchai Ferry Orange Chicken, and I know the boy can't either. He loves Chinese food. I will definitely let you know what we think about that one, too. If it's as good as the Macaroni Grill box, I can see these popping up in the pantry more often.
YOU CAN WIN!
And guess what? You have a chance to have your very own date night (or dinner with friends)! It will be the same Spark gift I received: a Wanchai Ferry and Romano's Macaroni Grill dry dinner kit as well as a $25 gift card.
To enter:
> Leave a comment about the best date you've had (or your favorite go-to date); or a tip for having a fun date night at home.
> I will give you an extra entry (or entries) if you blog or tweet about my contest. Just send an e-mail with the link or tweet to
allisonrwalker@yahoo.com
.
It doesn't take a fancy date or expensive night out to have fun. Sometimes, it's just nice to stay in.
I will announce the winner next Thursday!